Teaching and Mentoring
I consider teaching and mentoring students as an integral part of being a scientist. Since the beginning of my undergraduate studies, I actively taught and mentored students, ranging from senior high school to advanced PhD students.
If you are interested in pursuing a research project in my group, visit my group page and get in touch with me!
Teaching
As a PhD student at ETH Zurich I had the opportunity to contribute to the teaching efforts at ETH Zurich. During my bachelor and master's degree, I got employed by the Department of Mathematics at ETH as a teaching assistant for undergraduate mathematics courses. Throughout my studies and my PhD at ETH, I coached high school students to prepare them for physics competitions, and, more importantly to me, enlighten the passion for STEM sciences to the younger generation. More recently as a PostDoc, I provide online interactive course material, as additional resources targeted for undergraduates and starting graduate students, to gain access to the field of gravitational lensing and the use of open-source software.
Interactive online gravitational lecture notes: Interactive open-source lectures in the form of Jupyter notebooks hosted online making use of the software lenstronomy.
Mexican AstroCosmo Statistics School 2021: Three-part summer school lecture on strong gravitational lensing with exercises.
Advanced Physics Lab: Advanced bachelor level lab course. I was responsible for the student telescope operations and mentored students. I got awarded the Physics Lab Award for experimental and teaching innovation.
Astrophysics I: 3rd year undergraduate course. Teaching assistant, taught weekly exercise classes, ETH Zurich
Physics I: first year undergraduate course (Physics & Maths students). Teaching assistant, taught weekly exercise classes.
Analysis II: first year undergraduate course (Physics & Maths students). Teaching assistant, taught weekly exercise classes.
Swiss Physics Olympiads: Swiss Physics Olympiads: Coaching high school students. Lectures and exercises to prepare students for the International Physics Olympiad.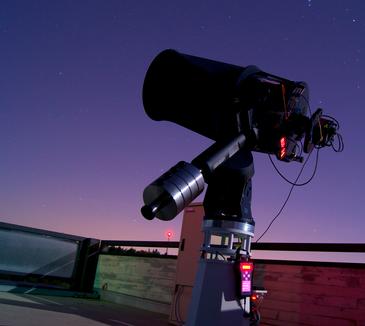 HPP Telescope at ETH Zurich, which I used as an instructor for the Astrophysics Lab. It is a 50 cm telescope (corrected Dall-Kirkham design) located on the roof of the HPP building. The telescope is installed on a computerized equatorial mount, and as a CCD detector a SBIG STX-16803 camera is used, which can be equipped with various broad-band and narrow-band filters. Image credit: ETH Zurich.
Mentoring students
During my PhD at ETH Zurich I had the chance to mentor and work with Bachelor's and Master's students. At UCLA and currently at Stanford I am involved in the mentoring of PhD and undergraduate students. In addition, I collaborate with several PhD students around the globe on projects they are thriving.
Jessica Jung, Fall 2022, undergraduate student, Stony Brook
Vikram Bhamre, 2022, high school student, Stanford
Sydney Erickson, 2021, 2022 - present, PhD rotation and thesis, Stanford
Ethan Nadler, 2020 - 2021, PhD thesis, Stanford (joint publications)
Elise Darragh-Ford, 2020 - 2021, PhD thesis, Stanford
Madison Cate Ueland, 2020, 2021 undergraduate summer student, Stanford (joint publications)
Sebastian Wagner-Carena, 2019 - present, PhD thesis, Stanford (joint publications)
Ji Won Park, 2019 - 2022, PhD thesis, Stanford (joint publications)
Thomas Schmidt, 2019 - present, PhD thesis, UCLA (joint publications)
Lilan Yang, 2018 - 2021, PhD thesis, UCLA (joint publications)
Eden Molina, Fall 2018, Undergraduate project, UCLA (joint publications)
Daniel Gilman, 2017 - 2020, PhD thesis, UCLA (joint publications)
Anowar Shajib, 2017 - 2020, PhD thesis, UCLA (joint publications)
Felix A. Kuhn, Fall 2016, Semester and Master's thesis, ETHZ (joint publications)
Florian Lienhard, Spring 2016, Semester thesis, ETHZ
Felix Mayor, Spring 2016, Semester thesis, ETHZ
Cyril Welschen, Fall 2015 - Spring 2016, Master thesis, ETHZ
Kevin Fusshoeller, Spring 2015, Semester thesis, ETHZ
Janik Andrejkovic, Spring 2014, Semester thesis, ETHZ